How to Do a Resume Right
Using Our Examples of Resume Writing for Healthcare and Healthcare Resume Guidelines
Yes, you CAN learn how to do a resume the right way... by paying attention to our healthcare examples of resume writing and following our resume guidelines for success!
Honestly, it's not that hard to produce a killer resume that will nab you that dream healthcare job when you follow our simple blueprint. Once you know the secrets to great resumes, it's going to be hard for you to fail...
There are many reasons why you might be in the job market just now... Perhaps you just need a change or you hanker after a promotion. Maybe you lost your job, for any number of reasons. Or you might be looking to break into healthcare for the first time. It doesn't matter why. What's important is...
... that you put together a powerful resume that will make that new healthcare job more than just a remote possibility. In truth, a resume alone won't get you that healthcare dream career you're craving. Not even if know how to do a resume right and follow all the examples of resume writing and every resume guideline you can get your hands on!
But a great resume will get you in the door for an interview. It will make you stand out as a superior candidate for the healthcare job you've applied for. And that achievement is huge, given the fierce competitive nature of today's job market.
Not only that, but a well-crafted resume will put the decision-maker you meet with in a hiring frame of mind. As long as you don't blow the interview, you'll have a great shot at that job!
So, if you need a little free "how to do a resume" help...
Go through this page, look at the many examples of resume writing and apply each resume guideline as you craft a powerful resume that will make all the difference in your adventure to land a job!
Your "How to Do a Resume" Guidelines:
10 Steps to Success
1. First, gather your background materials.
To complete your resume, you'll need to know your dates of employment at each of your previous jobs and when you went to school. You'll also need to be able to describe your skills and accomplishments on the job, so put some thought into those areas. If you're just going after your first healthcare job, put some thought into how your past skills and accomplishments might be applied in your new healthcare field. If your already experienced in healthcare, then be sure the accomplishments you plan to highlight are directly related to factors important to a healthcare employer, such as improvements in patient care and health status, safety, and/or even the employer's bottom line.
2. Decide on a format for your healthcare resume.
Before you delve further in to how to do a resume, you'll need to decide if the functional or chronological resume format will work best for you. Remember this resume guideline: you want to put yourself and your abilities in the best light.
3. Put together a general outline.
Using the examples of resume writing you'll find on this site and other resume guidelines will help you get organized and will prevent you from overlooking any essential pieces of information that should be included. And that will make sure you know how to do a resume right!
4. If your resume is targeted at a specific healthcare employer or healthcare career path (which it should be), learn all you can about what they need.
Spending time on this research will help you with your resume, with the cover letter that goes with your resume, and with the upcoming interview. Make sure you know what qualities will most benefit the healthcare employers you are interested in working for and think about how your abilities match those qualities.
5. The key in knowing how to do a resume right is... plan, plan, plan.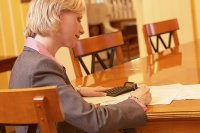 Before you actually start writing your resume, spend time just thinking about how you'll present yourself in it. What is your objective in seeking a healthcare job? This objective should serve as a sort of bull's-eye to structure your resume around. What have been your most significant accomplishments? You'll want to highlight them. What unique qualities do you bring to an employer? Think in terms of benefits. Also think about the resume words and the fonts you'll use.
6. Start writing, following your outline.
Take your time. Use a lot of action words. Be concise. Don't use "responsibilities included" or "responsible for." It's a waste of space. Use bullets, rather than long paragraphs.
7. Cut and paste your content into your resume template.
If you're at this site, you're probably not an experienced, professional resume writer. So, one of the best ways to learn how to do a resume is to use a resume template from a pro. There is no reason why your resume must look amateurish.
8. Review, edit, and proofread your healthcare resume like a maniac.
One of the best things I can tell you in how to do a resume is to do everything you can to avoid typos or grammatical errors. These errors may seem trivial, but they can cost you the interview, and ultimately the job. Modeling your resume after all the examles of resume writing you can find won't do any good if you neglect this one resume guideline and allow errors to find their way inside your resume. After all, think about it from the perspective of the future employer... if you can't be bothered to make sure that your resume is 100% accurate, what guarantee is there that your job performance will be high caliber?
9. Get someone else you trust to look at your resume once you've finished it.
It can be really helpful to get someone who knows you (and hopefully who knows how to do a resume) to look at your resume. Not only are they more likely to catch simple errors, but they may point out strengths you've missed or underemphasized. Tell them you want their honest opinion and you're open to questions. Use their input to clarify your resume. Even if you write your own resume, you may want to think about getting a professional to do a resume critique.
10. Send your healthcare resume out into the world.
The more resumes you submit, the more likely you are to get an interview. Don't put all your eggs in one basket by applying for only one healthcare job. And, don't be afraid to take some risks and apply for a job you're interested in, even if you don't quite match all the qualifications, especially when you're trying to break into a new field or career path. Most employers ask for many more qualifications than they absolutely require.
So, now you should know better how to do a resume right. The resume guidelines above are essential to be followed if you want to get those interview calls. Here are a few examples of resume writing that may also help you...
Some Great Examples of Resume Writing
There is nothing like the power of resume examples when you're trying to get the wording and layout right for your next resume. I don't know about you, but when I'm first trying to figure out how to write something, it can be helpful to look at what other people have done. It's kind of like a jumpstart.
Here's a resume power statement for a physician. It could be adapted for other clinical resumes too:
"Accomplished, dedicated MD with a proven background in clinical and research work currently seeking a position in a cardiology group practice. Achievements include being awarded a grant from the Foundation for the Advancement of Education in Science. Board certified in Internal Medicine, scoring in the 10% percentile. Fluent in Italian and Spanish."
Notice how in 4 short sentences, this job candidate has identified what he is looking for (the words in red), what he has to offer (the words in blue) and what sets him apart from other candidates for the same position (the words in green).
Here's are some other great examples of resume writing to help you learn how to do a resume:
Maintained a consistently high level of customer satisfaction



Consistently met or exceeded performance expectations



Reduced $100,000 from department budget without compromising quality or reducing staff



Educate and counsel patients about health, wellness and parenting, as well as other areas, as needed



Developed and implemented a documentation manual that streamlined our healthcare work team's processes



Developed strong community relations through networking and liaison representation with resource agencies
I hope by now I've convinced you that knowing how to do a resume is simple when you have a resume guideline you can count on!
---
Top of How to Do a Resume page