More Jobs in Nursing
Nursing Job Descriptions for
Careers in Nursing
Jobs in nursing are numerous and varied. These brief nursing job descriptions can help you decide which careers in nursing might be the right choice for you.
One of the great things about nursing careers is that you have so many choices. And these choices aren't just available to you when you're starting out. You can choose a new specialty at any point during your nursing career, which is a great thing. It's one way of keeping your career fresh and interesting.
Just Look at These Different Nursing Job Descriptions...
Jobs in nursing can be specialized by work setting or by type of care provided.
For example, ambulatory care nurses treat patients with a variety of illnesses and injuries on an outpatient basis, either in physicians' offices or in clinics. Some ambulatory care nurses are involved in telehealth, providing care and advice through electronic communications media such as videoconferencing or the Internet.
Critical care nurses work in critical or intensive care hospital units and provide care to patients with cardiovascular, respiratory, or pulmonary failure.
Emergency, or trauma, nurses work in hospital emergency departments and treat patients with life-threatening conditions caused by accidents, heart attacks, and strokes. Some emergency nurses are flight nurses, who provide medical care to patients who must be flown by helicopter to the nearest medical facility.
Holistic nurses provide care such as acupuncture, massage, aromatherapy, and biofeedback, which are meant to treat patients' mental and spiritual health in addition to their physical health.
Home health care nurses (that's my background!) provide at-home care for patients who are recovering from surgery, accidents, and childbirth. Hospice and palliative care nurses are another kind of home care nurse, and they provide care for—and help ease the pain of—terminally ill patients outside of hospitals.
Infusion nurses administer medications, fluids, and blood to patients through injections into patients' veins.
Long-term care nurses provide medical services on a recurring basis to patients with chronic physical or mental disorders, for instance in a nursing home or assisted living facility.
Let's not stop here... there are many more jobs in nursing that we haven't gotten to yet...
Medical-surgical nurses provide basic medical care to a variety of patients in all health settings and are one of the most common careers in nursing. The majority of nurses started out as medical-surgical nurses... I did, for one. It's a great way to cement all those skills you learn in nursing school before you venture into more specialized jobs in nursing.
Occupational health nurses provide treatment for job-related injuries and illnesses and help employers to detect workplace hazards and implement health and safety standards. They might also provide health education to the working public or provide preventive treatment such as flu shots.
Perianesthesia nurses provide preoperative and postoperative care to patients undergoing anesthesia during surgery. Perioperative nurses assist surgeons by selecting and handling instruments, controlling bleeding, and suturing incisions. Some of these nurses also can specialize in plastic and reconstructive surgery.
Psychiatric nurses treat patients with personality and mood disorders, both in institutions and in community settings, including the home.
Radiologic nurses provide care to patients undergoing diagnostic radiation procedures such as ultrasounds and magnetic resonance imaging.
Rehabilitation nurses care for patients with temporary and permanent disabilities. They help them learn to cope with their disabilities and to care for themselves despite them.
Transplant nurses care for both transplant recipients and living donors and monitor signs of organ rejection.
Careers in Nursing Exist in Every Conceivable Setting
RNs who choose jobs in nursing that involve specializing in a particular disease, ailment, or condition are employed in virtually all work settings, including physicians' offices, outpatient treatment facilities, home health care agencies, and hospitals. Don't forget prisons and schools too as a possibility for careers in nursing!
For instance, addictions nurses treat patients seeking help with alcohol, drug, and tobacco addictions, both in the hospital and in community clinics.
Developmental disabilities nurses provide care for patients with physical, mental, or behavioral disabilities; care may include help with feeding, controlling bodily functions, and sitting or standing independently.
There are jobs in nursing in diabetes management too. Diabetes management nurses help people who have diabetes manage it by teaching them proper nutrition and showing them how to test blood sugar levels and administer insulin injections.
Genetics nurses provide early detection screenings and treatment of patients with genetic disorders, including cystic fibrosis and Huntington's disease.
HIV/AIDS nurses care for patients diagnosed with HIV and AIDS. Obviously, there have been many more career opportunities for nurses in this area in the past 2 decades than in many other careers in nursing.
Oncology nurses care for patients with various types of cancer and may administer radiation and chemotherapies.
Finally, wound, ostomy, and continence nurses (called ETs, which is short for enterostomal therapists) treat patients with wounds caused by traumatic injury, ulcers, or arterial disease; provide postoperative care for patients with openings that allow for alternative methods of bodily waste elimination; and treat patients with urinary and fecal incontinence.
Even More Jobs in Nursing...
RNs whose nursing career is specializing in treatment of a particular organ or body system usually are employed in specialty physicians' offices or outpatient care facilities, although some are employed in hospital specialty or critical care units.
For example, cardiac and vascular nurses treat patients with coronary heart disease and those who have had heart surgery, providing services such as postoperative rehabilitation.
Dermatology nurses treat patients with disorders of the skin, such as skin cancer, eczema and psoriasis.
Gastroenterology nurses treat patients with digestive and intestinal disorders, including ulcers, acid reflux disease, and abdominal bleeding. Some nurses in this field also specialize in endoscopic procedures, which look inside the gastrointestinal tract using a tube equipped with a light and a camera that can capture images of diseased tissue.
Gynecology nurses provide care to women with disorders of the reproductive system, including endometriosis, cancer, and sexually transmitted diseases.
There are even jobs in nursing that are associated with kidney disease. Nephrology nurses care for patients with kidney disease caused by diabetes, hypertension, or substance abuse.
Neuroscience nurses care for patients with dysfunctions of the nervous system, including brain and spinal cord injuries and seizures.
Ophthalmic nurses provide career opportunities for nurses to care for patients with disorders of the eyes, including blindness and glaucoma, and to patients undergoing eye surgery.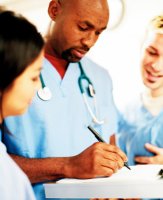 Orthopedic nurses care for patients with muscular and skeletal problems, including arthritis, bone fractures, and muscular dystrophy.
Otorhinolaryngology nurses care for patients with ear, nose, and throat disorders, such as cleft palates, allergies, and sinus disorders.
Respiratory nurses provide care to patients with respiratory disorders such as asthma, tuberculosis, and cystic fibrosis.
Urology nurses care for patients with disorders of the kidneys, urinary tract, and male reproductive organs, including infections, kidney and bladder stones, and cancers.
Finally, there are jobs in nursing in preventive and acute care in all health care settings, working with various segments of the population, including newborns (neonatology), children and adolescents (pediatrics), adults, and the elderly (gerontology or geriatrics).