Nursing Career Choices
Learn About Nursing as a Career
There are many different nursing career choices available to those thinking about nursing as a career path. Keep reading to learn more...
A nursing career can be one of the best healthcare careers available to you. It can be rewarding; you have the ability to make a real difference in peoples' lives; job security is great; pay and benefits aren't bad (though much less than physicians).
But it's also darn hard work... and a mistake can cost your patient's life or at least well-being. So, nursing isn't for "sissies"!
Before I get into specifics on your nursing career choices and what nursing as a career is like, let's get a little background information.
The following section is adapted from a publication of the US Department of Labor/Bureau of Labor Statistics (Occupational Outlook Handbook,
2006-07 Edition)...
Some Background Info About
Nursing Career Choices
First, here are some significant points about nursing as a career:
Registered nurses constitute the largest health care occupation, with 2.4 million jobs.

About 3 out of 5 jobs are in hospitals.

The three major educational paths to registered nursing are a bachelor's degree, an associate degree, and a diploma from an approved nursing program.

Registered nurses are projected to create the second largest number of new jobs among all occupations; job opportunities in most specialties and employment settings are expected to be excellent, with some employers reporting difficulty in attracting and retaining enough RNs.
What Nursing as a Career Is Like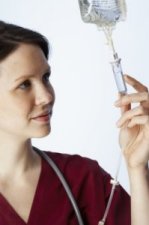 Registered nurses (RNs for short), regardless of specialty or work setting, perform basic duties that include treating patients, educating patients and the public about various medical conditions, and providing advice and emotional support to patients' family members.
RNs record patients' medical histories and symptoms, help to perform diagnostic tests and analyze results, operate medical machinery, administer treatment and medications, and help with patient follow-up and rehabilitation.
RNs teach patients and their families how to manage their illness or injury, including post-treatment home care needs, diet and exercise programs, and self-administration of medication and physical therapy.
Some RNs also are trained to provide grief counseling to family members of critically ill patients. RNs work to promote general health by educating the public on various warning signs and symptoms of disease and where to go for help.
RNs also might run general health screening or immunization clinics, blood drives, and public seminars on various conditions.
RNs can specialize in one or more patient care specialties. This means there are many, many nursing career choices. The most common career opportunities for nurses can be divided into roughly four categories—by work setting or type of treatment; disease, ailment, or condition; organ or body system type; or population.
RNs may combine specialties from more than one area into a unique nursing career—for example, pediatric oncology or cardiac emergency—depending on personal interest and employer needs.