Chronological Resumes:
Sample Resumes That Work
Chronological resumes can be very effective in many situations. Use our sample resumes and free resume examples to do it right.
As explained on the our resume format page, a chronological (or more accurately "reverse chronological") resume is one where descriptions of the jobs you've held and related activities or achievements dominate the resume.
Here are the essential components of chronological resumes:
Your personal info. Include your name, address, and home telephone of course. But, you may also want to consider including an email address and/or a cell phone number. And, if you have a resume web page, you may want to list your URL here, as well. Do NOT include personal info such as marital status, birthdate or age, hobbies, or whether you have children. None of that information should be relevant to a hiring decision anyway, and it's illegal for an employer to ask about it. Personal information should be listed at the top of chronological resumes (see sample resumes below).

Your resume objective or power statement. The first part of your resume under your name should always be your objective or summary statement. For discussions of when to use resume objectives vs. power statements or a job summary, click the links in this sentence.

Professional Experience. On chronological resumes, this is where you list the jobs you have held, in reverse order... that is, your current or most recent job is listed first, and then so on backwards through all of the jobs you've held. Note: It's rarely necessary to go back more than 10 years. Job experience older than that is not going to be that useful in most cases, anyway.) In this section include the following info for each job:

Name of the employer
Title of the position
Dates worked (month/year)
Job duties & accomplishments, quantified


Note: If there are gaps in your work history, be prepared to discuss them in your resume cover letters or during the job interview.

Education. This is where you list any college attended and the degree(s) achieved. Education is especially relevant to a healthcare career. Almost all health care careers require at least certification or—at the very least—special training. Many require a specific healthcare degree. Be sure to include degree obtained, major and minor, and name and location of educational institution. (Note: It is acceptable for recent college grads to place their "education" section on chronological resumes up front, right after the objective, since that will most likely be more relevant to the new healthcare position sought than past work experience. You may also want to include extracurricular activities and volunteer positions that may be relevant.)
Chronological Resumes Samples
Here are 2 resume samples in the chronological format, courtesy of ResumeEdge.com
:
Here are your resume samples: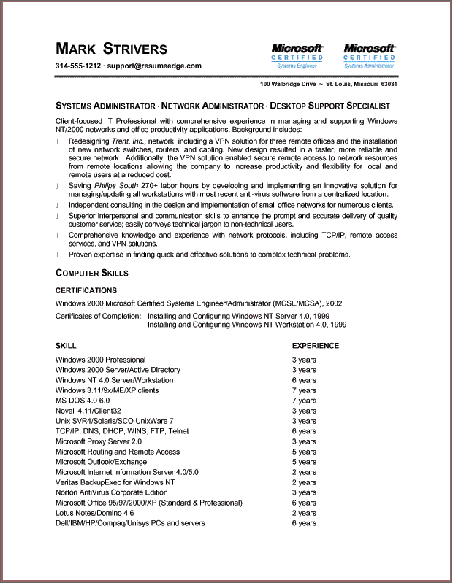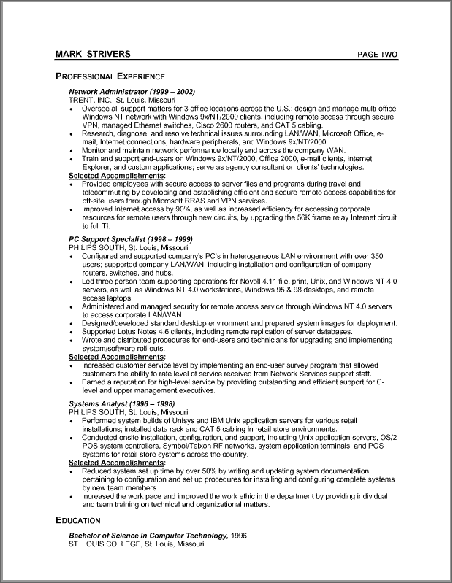 If you take the time to really read each of the chronological resumes here, and then try to evaluate what works and why on the different sample resumes, you'll greatly advance your learning process. Be sure to take a look at our free resume examples in the combination format and functional resume format too.
---
Top of Chronological Resumes page